WRITING FORMAL LETTERS
Major Parts of Formal/Official letters
Sender's address and date
Addressee's address below the reference number
U.F.S, if it has to be signed by a certain officer/Person, for forwarding.
Formal salutation i.e. Sir/Madam
The introductory sentence e.g a reference to a former announcement, letter, or newspaper.
Curriculum Vitae (CV)
Purpose of your application i.e. for national building.
Referees (at least 3) i.e. someone who can furnish personal information about you.
Closing remarks like your faithfully
Signature.
Full name and title.
Example of Request Letter
A REQUEST LETTER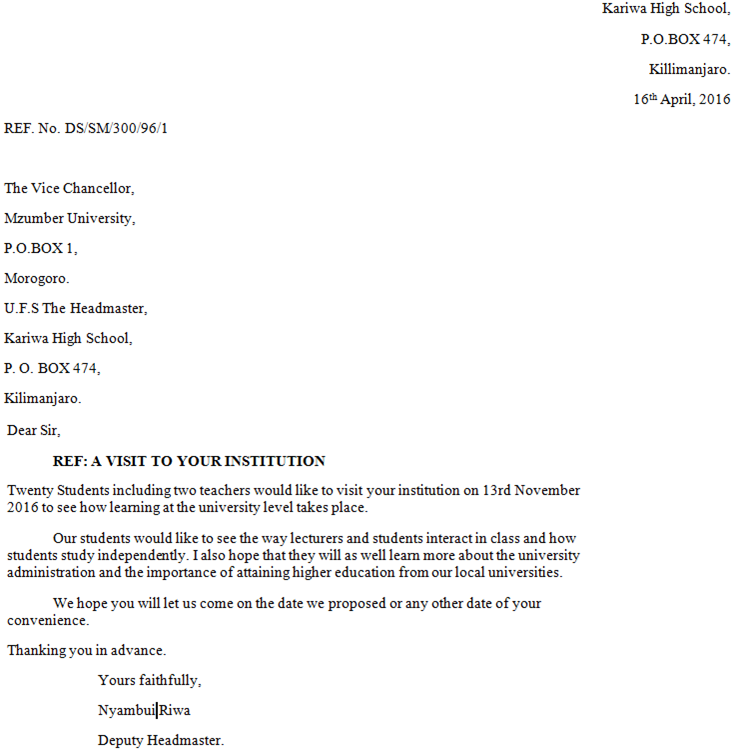 LETTERS TO THE EDITOR
The Editor plays a vital role in making critical analysis of all letters before they are published and read by the Public through news papers, magazines or any other appropriate media. Letters which are sent to the newspapers are always addressed to the editor. The Proper form of salutation is "Sir"/"Madam" and rarely "dear sir" though in some circumstances you can address the editor as "dear sir" or "dear madam"
Another type of formal letters are letters to the editor of a newspaper or magazine. Try to keep them under 150 words. The longer letters are also more likely to be edited. Thus your shorter letters has a better chance of being read
Guidelines of how to write letters to the editor
1. State the argument you are responding to as briefly as possible in the letter's introduction
2. Deal with one issue per letter.
3. Do not be abusive
4. Your letter should be logically organized
(a) A brief explanation of the argument you are opposing
(b) Followed by a statement of your own position
(c) Present your evidence
(d) Close with pithy comment
5. Use facts, figures and expert testimony whenever possible
6. Respect the opinion of people with special knowledge or expertise
7. Proofread your letter carefully for error in spelling ,punctuation and grammar
8. A letter should not be mailed the same day it is written
9. Try to view the letter from the reader's perspective
10. Always include your name, address ,day-time ,phone numbers and signature
Format on how to write the letter to the editor
1. Receiver's address
2. Salutation
3. Title
4. Main body
5. Ending of the letter
6. Sender's address
Example of letter to the Editor.
The editor
Mwananchi newspapers
P.o box ………
Dar es salaam
Dear Editor
RE:
INSANITARY CONDITION
Main body with at least four points
Well arranged paragraphs
Yours in national building
Mzalendo
P.o box………
Ukonga
Dar es salaam
Date
Mwananchi Newspaper,
Sir/Madam,
It is high time that proper steps were taken to put a stop to the reckless driving of the "daladala" (mini-buses) in the narrow streets of our thickly populated town. Only this morning a poor, old beggar very narrowly escaped from being run over by a speeding motor car around Msimbazi centre.
He has crossing the street when a car came dashing along at a high speed of about 120km/hr; just imagine that place has a corner! Such reckless driving causes total accidents are likely to happen.
Yours truly,
Observer
BUSINESS TRANSACTION LETTERS
A business Transaction letters is a formal communication tool that you can adopt to meet many specific purposes. It is a formal letter written either to communicate information or to request action. Business letters provide a direct and effective means of communication on a wide range of topics.
Knowing how to write a business letter is a skill one may final useful throughout his/her life. Business letters are used when one wants to enquire, make a request, complain, order a product or make an order adjustment, apply for employment, or explain views on a subject.
Format of Business Letters
Business letters may appear in two formats, namely: Modified Block Form and the Full Block Form. In the modified block from the heading, closing and signature are aligned along the right margin. All the other elements are aligned along the left margin. Paragraphs are indented.
In the full block format all elements are aligned along the left margin. Paragraphs are not indented. In both formats, letters should he single spaced leave extra space for your signature between the closing and your signature between the closing and your typed name
Format
1. Sender Address
Appears at the top right of the letter
2.Date
Comes below the sender's address
3. Receiver's Address
Should be on the left side .It begin with the title like
The Headmasters, The Marketing Manager etc
4. Salutation
Use Dear Sir/Madam if you do not know the person's name
Use dear Mr/Mrs /ms/dr…etc if you do know the person's name
5. Heading
Brief statement explaining your reason for writing the letter. It should be in six or less words
It is usually bolded or underlined
6. Main body
Should be short and use new paragraph for a new idea
Write your order for the things you want to purchase
7. Conclusion
Ending of the letter contains a short sentence that anticipates the respond of the addressee
Followed by a sign off
Yours faithfully if you do know the person's name
Yours sincerely if you have included the person's name
Close by putting your signature and then your full name.
Example of business transaction letter
Types of Transaction Business Letters.
The following are the main types of business letter enquiry or order letters, complaints letter and opinion letters.
Inquiry or Order letters.
Things to do when writing inquiry letters:
Be brief
State request clearly
Give reasons for your request
Make your request specific and reasonable.
Include your telephone number or a self-addressed, stamped, return envelope, etc.
Inquiry/Order Letter: (The modified Block Form)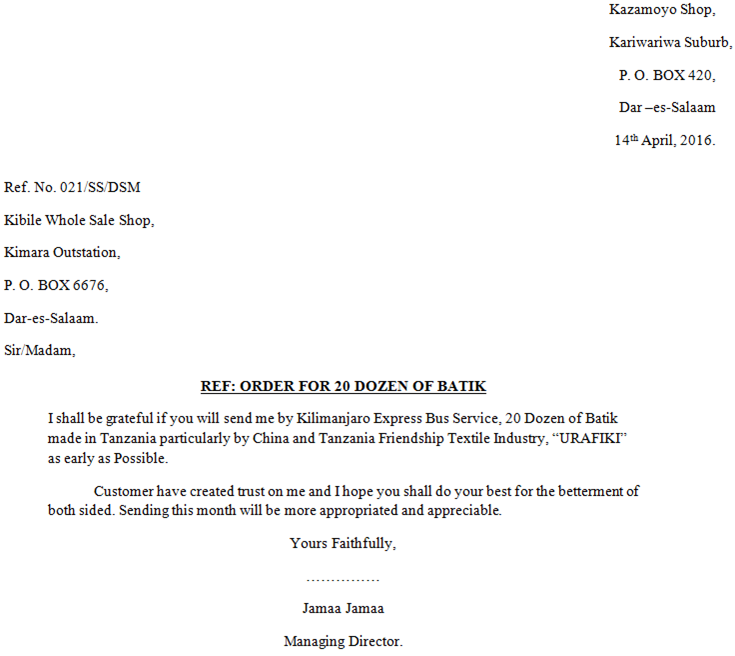 Order Letters: (The Full Block Form)
Kazamoyo Shop,
Kariwariwa Suburb,
P. O. BOX 420,
Dar-es-Salaam.
Sir/Madam,
REF: ORDER FOR 20 DOZEN OF BATIK
I shall be grateful if you will send me by Kilimanjaro Express Bus Service, 20 Dozen of Batik made in Tanzania particularly by China and Tanzania Friendship Textile Industry, "URAFIKI" as early as Possible.
Customer have created trust on me and I hope you shall do your best for the betterment of both sided. Sending this month will be more appropriated and appreciable.
Yours Faithfully,
…………………
Jamaa Jamaa
Managing Director.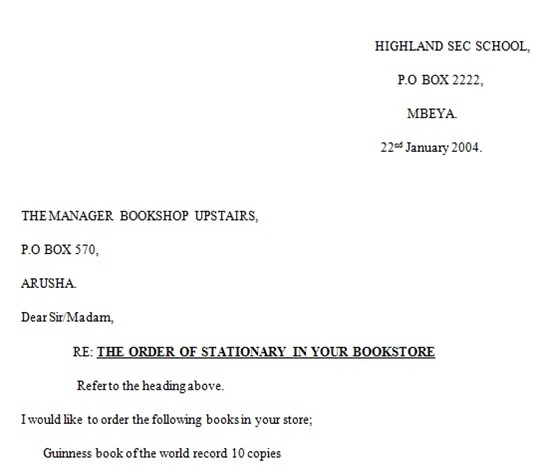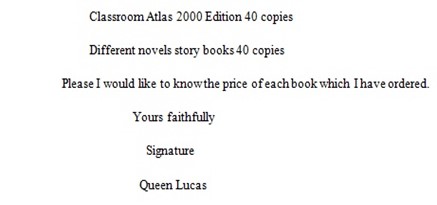 COMPLIANT LETTER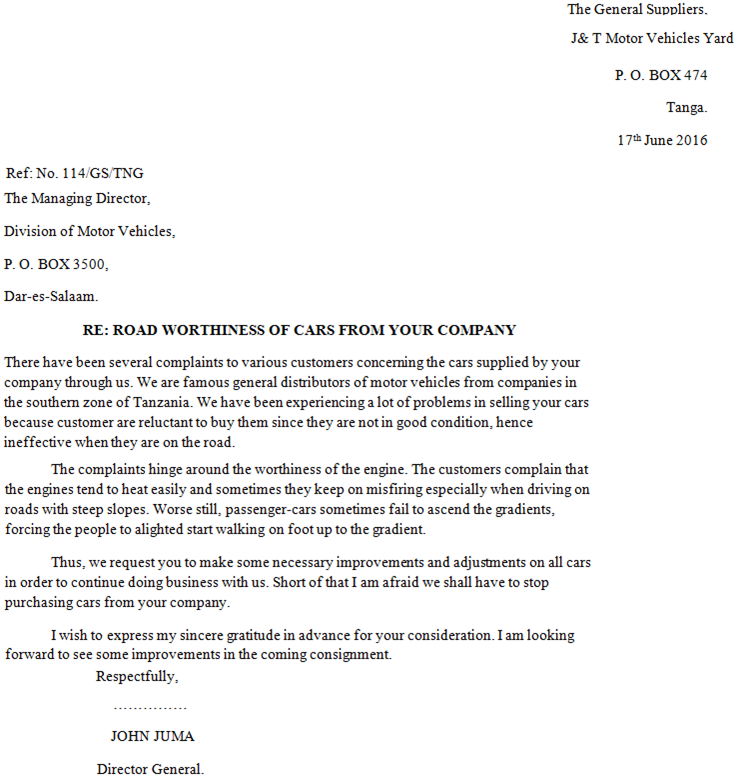 OPINION LETTERS
Things to do when writing opinion letters.
Identify and summarize the issues
State your opinions and support them with reasons and facts.
Summarize your main points and if possible provide a solution.
Example of Opinion Letter